Game Ready With Classic Metal Signs
Elaine Hurley
Get your team game ready with Classic Metal Signs.
What a season it's been in the NFL and it's almost finally here; Super Bowel LVI. This has been the biggest season in the history of the NFL and boy has it been exciting. But here we are with the final two heavyweights left standing. It's the Cincinnati Bengals versus the LA Rams battling it out on Footballs biggest stage on Sunday, February 13th. It's the Bengals first Super Bowel since 1988 where they narrowly lost out 20 – 16 to the San Francisco 49ers. The Rams last made an appearance in Super Bowel in 2018 when they were beaten 13 – 3 by the New England Patriots. Neither of these teams have ever met in the Championship and both teams come into this game with the heavy expectations of their respective fans and huge points to prove. Either way this year's Super Bowel promises to be clash of epic proportions and we can't wait.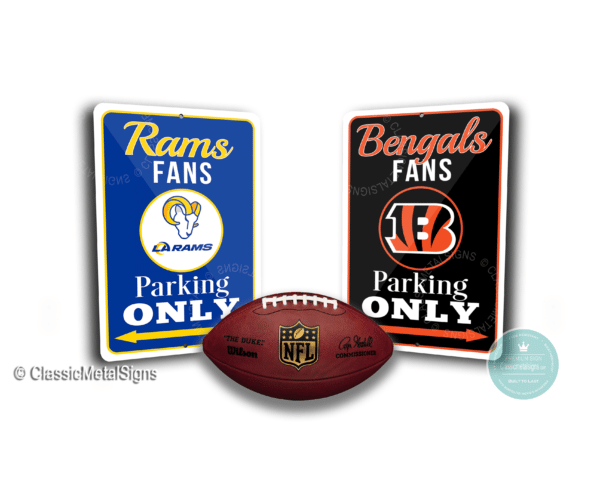 You can view our full range of NFL parking signs below and if you require something personalized or a unique custom sporting gift you can contact us on the Classic Metal Signs contact form.
Arizona Cardinals Parking Only sign, Atlanta Falcons Parking Only sign, Baltimore Ravens Parking Only Sign, Buffalo Bills Parking Only Sign, Carolina Panthers Parking Only Sign, Chicago Bears Parking Only Sign, Cincinnati Bengals Parking Only Sign, Cleveland Browns Parking Only sign, Dallas Cowboys Parking Only Sign, Denver Broncos Parking Only sign, Detroit Lions Parking Only Sign, Greenbay Packers Parking Only sign, Houston Texans Parking Only Sign, Indianapolis Parking Only Sign, Jacksonville Jaguars Parking Only Sign, Kansas City Chiefs Parking Only Sign, Las Vegas Raiders Parking Only sign, Miami Dolphins Parking Only Sign, Minnesota Vikings Parking Only Sign, New England Patriots Parking Only Sign, New York Giants Parking Only Sign, New York Jets Parking Only Sign, Philadelphia Eagles Parking Only Sign, Pittsburgh Steelers Parking Only Sign, Los Angeles Chargers Parking Only Sign, Tampa Bay Buccaneers Parking Only sign, San Francisco 49ers Parking Only Sign, Seattle Seahawks Parking Only Sign, LA Rams Parking Only sign, Tennessee Titans Parking Only sign, Washington Redskins Parking Only sign, St Louis Rams Parking Only Sign,