Custom No Soliciting Signs
Elaine Hurley
Custom No Soliciting Signs
Take a look at a few recent examples of custom no soliciting signs that we have made for our customers. At Classic Metal Signs, we love to work on custom sign projects. If you have an idea for a sign, be it some custom no soliciting signs, a custom business sign, a reserved parking sign, personalized street signs or whatever sign it is that you need, Classic Metal Signs will work with you to bring your idea to life!
*******
NO SOLICITING
We've already found Jesus
We can handle our own home improvement
We are very happy with our security system
If you aren't Google fiber, don't even try
"Sleeping Baby Inside!"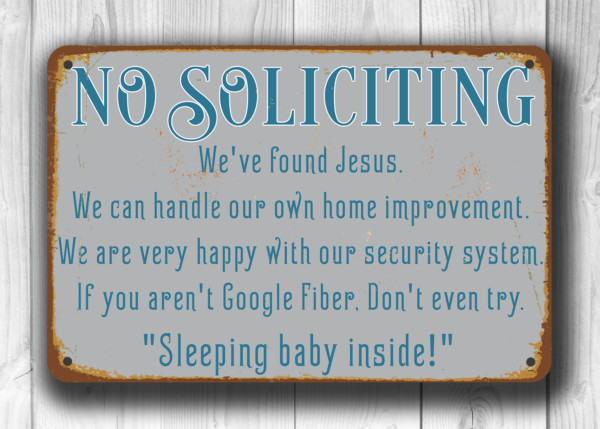 *******
PLEASE NO SOLICITING
"Really, it's annoying"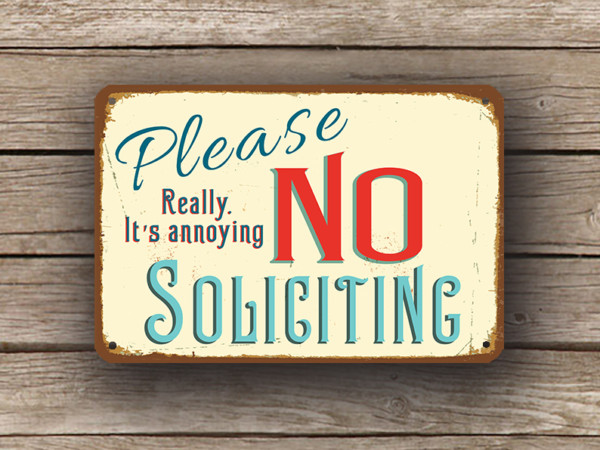 *******
Create your own custom No Soliciting Sign for your home or workplace at Classic Metal Signs. Prevent unwanted Solicitors from calling to your door with these classic style, customized No Soliciting Signs.
Get your message across by adding your very own wording and/or imagery.
Our no soliciting signs are made from strong composite metal and can be hung outside in all weather conditions. Our signs also come in a range of sizes so you can be sure that you'll find or create the perfect no solicitation sign for you.